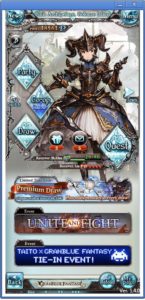 The honeymoon period is over and now the grind begins. I will give credit where credit is due and say there's a lot to do in Granblue Fantasy at all times, but that doesn't change the fact that to get anywhere fast, you're going to have to do the same tasks over and over again to get them. Want to uncap your characters' levels? Grind the trial/Angel Halo quests, grind the co-op quests, grind for crystals and treasures to trade for them, grind for crystals to roll for cerulean sparks to trade for items, etc etc. Want more weapons? Do quests for crystals, do quests for tickets, grind raids and hope to get lucky, then when you've done all that, grind for another 3 copies of the same weapon so you can unlock its true power, and on and it goes.
Which is not to say that it's not fun (for a certain definition of "fun") or that I didn't know what I was getting into when I started Grindblue Fantasy. I had some downtime last week, so I played from 8am to 8pm on Thursday, got some good time in on Friday and Saturday and played a little more on Monday and now I'm level 40! I feel a little bit stronger. I can do the Hard trial/Angel quests with ease now (though Grand Order always helps) whereas I got slaughtered the first time I tried them. That's good. But with that kind of investment, I could have finished or gotten pretty far in another RPG. It would be one thing if Granblue had a definite endpoint, but it's going to go on forever. I'm not willing to put that kind of time and investment in an endless grind, so I'm dialing back my commitment here.
Besides, with the way the game works, unless you pay through the nose, people who started years before you (i.e. the majority of Japanese players) will always be stronger than you and run around one-shotting lv. 100 raids like they were nothing. I'm an all or nothing kind of person, so I'd be totally demoralized if I tried to keep up with that.
So my 'goal' right now, as far as you can have a goal in this kind of game… was going to be seeing what happened in the story, but since the game is endless, the story is bound to be endless as well. That's why everyone's acting all mysterious and not sharing what they know. And it's kind of ridiculous how every tiny bit of story is preceded and followed by a battle against monsters. But I don't have anything else to aim for that isn't a grindfest, so we'll go with that for now.
Atrocious translation aside (seriously, the developers ought to sue their translation agency) the story isn't that bad. I'd describe it as "comfortably cliched". It hits all the usual RPG tropes without trying to do anything radical with them, which is only to be expected when you're trying to write something that will please millions of people of all ages and keep them spending tons of money on your game.
The upside of that is I can progress without worrying about unpleasant surprises or betrayals (can't have someone's favorite character turn bad! They might stop playing!) or deaths (same) or similar dark turns of story. The downside? It's pretty boring and predictable. There are some interesting characters in there so a good localization could have made something truly memorable out of this, but well, it is what it is.
Unless something really major happens or I drop the game, I don't think I'll be giving many more updates on Granblue Fantasy. There isn't much to say, you see. Day 1: Grind. Day 2: Grind grind. Day 3: GrindOoh, shiny weapon drop that is actually totally useless because it's the wrong size/shape/color, grind, grind. I don't mind playing through it (it's a lot more exciting than I'm making it sound, honest) but it would be boring to write about, so just assume I'm playing it. My agenda for the next couple of weeks/months/till I get tired:
Play Unite and Fight and another other events that come my way. Especially if they involve raids. Raids are awesome!
Uncap all my characters and watch all their fate episodes, just because.
Continue the story whenever I can find the time. Just finished chapter 28. Die, Mithra, die! (Psst: if Mithra ensures that all promises are fulfilled, then why doesn't the Chancellor just say "Lyria! I promise to capture you and take you back to the empire!" and leave the rest up to the primal beast?)
Leech raids because raids are fun.
I hate co-op but the rewards are too good to pass up so, ugh, do co-op every day.
And that's about it. Nothing that requires urgent grinding. My ID is 11330337 if anyone wants to add me, with the caveat that I'm really weak with no intention of growing stronger soon.
Next up, I don't think I have it in me to finish my Stranger of Sword City replay, so I'm just going to be honest with myself and shelve it. Sakura Taisen 3 I'll get to it when I get to it. Which leaves me with starting something new on the PSP/DS/PC. I'm thinking Shiren the Wanderer 5 or something similar where I'll die quickly and move on. We'll see.