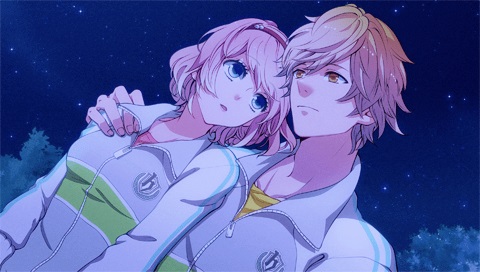 Nnnn… so sleepy… Let's make this quick. I reloaded from the Kakeru save I made midway through Kariya's route and used that to get Kakeru's happy end. As I'd suspected, meeting him for the after-school chat does make things awkward for a while. Especially since Kakeru doesn't actually confess. He admits he's had feelings for Yui for years but says he doesn't feel ready to formally ask her out yet. So it's a refusal to confess, more or less. You interrupted my busy schedule for that?
Later on he talks to Yui about why he's going through a slump in his soccer game – he broke his leg before and is subconsciously terrified of breaking it again. She offers some trite words of encouragement, Kakeru is suitably gratified and he goes on to bend it like Beckham once again. Then he confesses, then she gives him the "I've loved you all along to but I wouldn't have noticed if you hadn't said anything" speech and then they start dating. The same making-out-on-every-street corner that Kariya's route suffered from.
It's even worse than Kariya's route because at least Kariya and Yui had new and exciting things to talk about. With Kakeru and Yui every other conversation starts with "Hey, remember that time when we…" and goes on for ages blah blah blah childhood memories blah blah it was so much fun blah blah blah. I call it the "Stranger's Family Reunion" problem. It really makes the gamer feel left out when the characters are always in their own little world going over their own little memories we are not privy to. Once would be enough, but every single conversation is just depressing. This has put me off playing any other childhood friend routes in other otome games. I am soooo sorry for intruding on your happy memories.
Well, enough of that. Kakeru's a nice guy. Really nice guy. What does he see in that Yui girl anyway? Hmph. Moving on, I'm going to give Hatsukare Renai Debut Sengen a break and play some other stuff for a while. And by 'other stuff' I mean I can't wait to start Operation Abyss: New Tokyo Legacy. I want to do some dungeon-crawling, the more mindless the better. But first I need some painkillers and a nap. Too sleepy…
Non-update: Managed to play an hour of Operation Abyss and haven't been able to touch it since. I'm just too busy ;____; And it looks like I'll be busy till early June at the latest. Waaah…