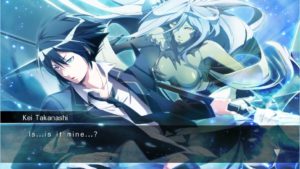 The Amazon blurb for Mind Zero says: "Mind Zero is an action-packed dungeon crawler RPG for the handheld entertainment Play as Kei, a Japanese high school student, whose life turns upside down when he gains the power of "Mind," a weapon/persona with deadly powers." Wait, "action-packed"? Now I know the copywriter is just doing his job talking up the game, but is really okay to lie so blatantly about a product page? If this game is action-packed then I'm the queen of England!
No seriously, I'm enjoying Mind Zero so far, it has its charms and I can think of many positive ways to describe it, but "action-packed" it is definitely not. Granted, this game doesn't have a timer (or at least I can't find one) so I don't know how long I've been playing for, but it's a minimum of 6-7 hours and almost nothing has happened in the game.
Our group discovered they all had "minds" (persona, not brains) and met two other people who also had minds. Everything else has been slow dungeon crawling through the most boring dungeons I've ever seen. Even Conception had better dungeons, and that was a dating sim. Square room, rectangular room, loooong pathway, more long pathways, a treasure chest or boss every once in a while but mostly just path after featureless path after featureless path. Very uninspired and uninspiring design.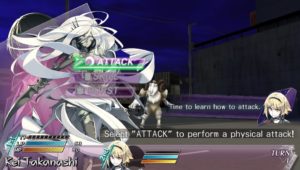 On top of that each dungeon only seems to have three or four kinds of enemies in it. I've only done two dungeons, so maybe it gets better later but I went through three floors of Spirit's Path fighting just three kinds of enemies, then they added the soul balancers around floor 4 and the scorpion things around floor 5 and that's it so far. It's been enough to make me yawn a few times, and once I scratched my arm because a mosquito bit me, but that's hardly what I'd call "action-packed."
The lyin' blurb also says I will eventually "master skills and become even more powerful," but right now I'm fighting the enemies with the same three or four skills (Power Break, Strike, Candle, Arcane whatsit) so it's not exciting at all. Unlike the SMT games Mind Zero is clearly modeled after, you can't change minds or summon demons, so you have to watch the same monsters executing the same attacks using the same animations over and over and over again… and I'm only a few hours in. Oh boy. As the game goes along I'm sure more dungeons will open up and more skills will become available and things will liven up on the battle front. They do just that and me and Mind Zero will be totally cool.

After all I'm fairly happy with the story and characters so far. As I said, nothing much has happened plotwise yet, which means its still full of potential. Potential disaster or potential masterpiece or something in-between, only time will tell which way the coin lands.
The characters are the usual wacky band of anime high-school students with all the attendant bickering and sniping at each other that you get in any high-school anime/video game. It's only a matter of time before they start talking about the bonds that tie them together that will enable them to overcome any force of evil, blah blah blah. The familiar is so comforting sometimes.
In the meantime I'm enjoying playing an ordinary turn-based RPG for the first time in a long time. Since Rezel Cross in January, in fact, and before that was SMTIV in September. I need more ordinary RPGs in my life, so it was really nice of Aksys Games to port this over to the PC so I could play it without buying a Vita. I'm going to try to incorporate more such games into my schedule, even if it means digging up unplayed gems on the PS1 or GBA or older systems. But first, one thing at a time, I'm going to play a little more Mind Zero and see how it turns out. Wish me luck!