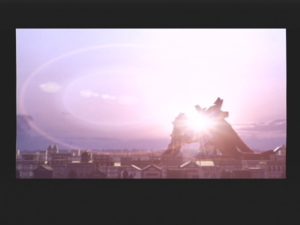 Where "Finished" means I got to the last dungeon and quit to read ending spoilers. What happened was, I reached a point where I had to re-fight the most annoying boss in the game (Mishaguji) but didn't have a demon with Bufudyne to take him on. I tried with Ouyatsumi and Mabufudyne, but he's just too slow when the boss hits 50%.
So I backtracked to Victor's Goumaden with my demons in tow, all ready and happy to fuse something nice. Oh, Orochi looks like a good fit and I have the right set of demons. Let's do thi… "You cannot handle this demon as you are now." What? Why? It turns out Orochi is level 63 and Raidou is only level 61. In other words, Atlus wants me to grind. Ha. When Xenoblade 2 is waiting for me. Ha. *click* Off with the PS2.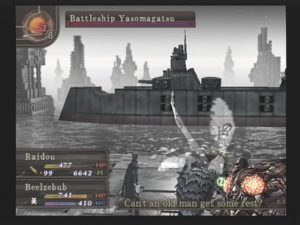 But I did want to find out what the Raidou Kuzunoha vs. The Soulless Army story was ultimately about, so I read up on the final confrontation and ending from a detailed Let's Play. Huh…? From the future…? Ambassador who…? Based on the events of SMT II? But I haven't played SMT II, I don't know any of this stuff. What does all that have to do with Kaya's bloodline? I just wanted to fuse demons and kill things. Why must everything be so complicated? Well apparently everything ended happily ever after so that's good enough.
Final thoughts on Raidou Kuzunoha: I was a bit worried because it was an ARPG but wasn't too hard. Just that camera doesn't move so it's easy to move Raidou somewhere where you can't see what he's doing. Small flying enemies can also be hard to target for that reason. But it's not a difficult game to play otherwise.
The story was… meh. I'd heard that it was lighter in tone than the other SMT games. Certainly it has a lower body count for named NPCs, but otherwise I don't see it. The mood is very gloomy and the "jokes" are very juvenile. Actually I haven't played most of the mainline SMT games, so I'm not in a position to compare. You know what? I've gotta stop pretending to care and get on with playing Xenoblade 2.
Raidou Kuzunoha vs. The Soulless Army is not a bad game. It's just dry and bland with an unexciting payoff. If that sounds like your kind of thing, be my guest. I'm moving on to better things.