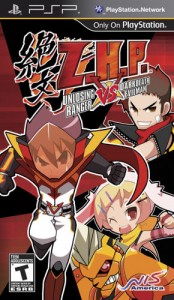 A pig in lipstick is still a pig.
And a rogue-like in lipstick is still a rogue-like.
And I play rogue-likes not to finish them but to see how many times I die before I lose interest.
So I played Zettai Hero Project
for a while, lost interest and quit.
End of report.
You: "That's it?! I demand details!!"
I'd love to indulge you, but I don't have much more to say. It's been almost two months since I dropped the game unceremoniously, and I haven't looked back. IIRC I made it to chapter 5 or 6, the part in the mine with Oldlama and some ghost or something.
It's a normal rogue-like for the most part. The "lipstick" is just NIS going overboard with all kinds of beautification attempts and unnecessary additions that just messed up the clean, simple feel I like to get from my rogue-likes. Heh, look at me talking like some kind of expert when all I've ever played are the Shiren the Wanderer games. But I know what I like when I play it, and Zettai Hero Project wasn't it.
Some of the unnecessary additions I'm talking about:
A largely unwilling protagonist. Rogue-likes are brutal enough to play and watch even when your character wants to be there. When he doesn't want to, and when on top of that other characters keep insulting and putting him down, well, just imagine how that makes me feel. The putdowns were more mean-spirited than funny to begin with, and they just got worse as the game progressed. This was about 90% of the reason I quit the game.
Too much stuff to fiddle with, all with little discernible benefit. Too many items, too many facilities, too many options. The insurance office, the church, the item synthesis thing, the medical doctor and all those colored blocks. All of that. All unnecessary stress. Just give me somewhere to stash my items and a way to get home and then leave me alone. 9% of the reason I quit.
Too many battles with Darkdeath Evilman. After the first 2 they should have cut out all the rest. We already know how they're going to turn out.
Too much moralization. Why must there be a moral in every chapter? I'm busy trying to survive here, I really don't need to be preached at on top of my woes.
Time-wasting character stories. I'm busy training to save your sorry asses. Stop dragging me into your stupid social dramas. The only ones worth keeping were those directly related to the story, like Superbaby's mom.
Some amusing scenes, but even more scenes that just fell flat in their weak attempts at humor. They even lapsed into vulgarity at times (his *bleep* is as big as a …what?)
Unnecessary added stress with decaying armor/weapons. At least slow down the rate of decay.
The dungeon music was annoying and distracting. I get the whole "sentai" theme thing, but there should have been an option to turn it off entirely.
The slight stat boosts you got from failing were insulting. I felt patronized. Like, I know what I'm getting into when I play a rogue-like, okay? You don't have to baby me or give me pity points for failing. How old do you think I am?
And so on and so forth. Oh it wasn't all bad, since I played it for quite a while. I liked the art style, I liked the generally cheerful and silly mood, I'm glad they tried to be funny and I liked the general premise of the hero training for the battle against the final boss.
And it's not like I was planning to finish in the first place. I would have stopped sooner or later anyway; the flaws just hastened the process. So when I'd had enough and wanted to quit, I quit.
The end. Seriously.