Finished after 30 hours. The main game takes 25 hours and then the epilogue/after story can take anywhere from 5 minutes to 5 hours depending on whether you want to grind and do side quests or not. The main last boss is around level 34 while the epilogue boss is level 50, but since you can level up by eating food, you don't have to spend time in the bonus stages if you don't want to. Come to think of it you could finish the whole game in about 5 hours if you're willing to eat your way to higher levels instead of exploring stages and fighting enemies. Way to defeat the purpose of the whole game… Good for speed runs and low-level challenges though, if you're into that sort of thing.
Anyways, all good things come to an end. I was worried that I might have praised Nayuta no Kiseki too highly last time and jinxed it, but it ended very satisfactorily so I'm very happy. This is probably the lightest, fluffiest, happiest RPG I've played since… hmm… probably Shining Ark in February 2015. They have a lot of similarities – idyllic island village, mysterious white-haired amnesiac girl with strange powers, lots of sidequests, lots of food to cook and sidequests to do, likeable characters, a fairly light story and a very happy ending. Needless to say I loved Shining Ark as well.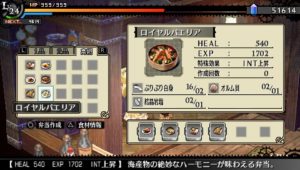 I would recommend Nayuta no Kiseki to anyone who likes action RPG and/or platform games. If you play it on Beginner it's a good Baby's First ARPG and if you like a challenge you can start with Hard mode right away. The main drawbacks that I didn't mention last time are first the loading times, which are just a tad too long. Secondly it contains very little of the lore and world building Falcom's Trails games are so well-known for. It has even less than most RPGs I've played in the past, very "empty" kind of world.
Thirdly, jumping is a little inaccurate. You'll often end up a little to the left or right of where you intended to go. On narrow platforms you'll end up falling off. Falcom's solution to this was give you an accessory that eliminates damage from falling into pits. You should just fix the problem, Falcom. Well whatever, falling into a pit is much better than falling to a lower level and having to climb up again (which also happens pretty often) so I'll give them a pass.
Apart from that, if you're even slightly interested in trying Nayuta, I'd say go ahead and play it. It's a lot of fun. Seriously. So much fun. Action RPGs are the best! Thanks to that I've gained a renewed interest in Falcom's ARPGs. And just ARPGs in general. Now I'm really sad I couldn't play Rune Factory 4. Maybe I should give Zwei!! a second chance. I remember it being very cute and funny, the little I played of it.
There's one little problem, though: Going from an ARPG to an SRPG (Stella Glow) makes the latter feel extremely slow. I'm used to a pretty hectic pace of battle now. Sitting around waiting for monsters to move now it like rggrhhh… Just let me slash them all! I should have eased myself back into turn-based gameplay with something more active instead, like maybe 7th Dragon III. Too late, I'm already several hours into Stella Glow. Progress update on that next time. Until then, adios!