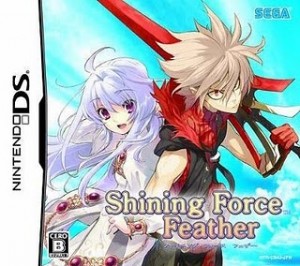 I loved Shining Force I and II on the Genesis all those years ago, so now I sit up and bark whenever I hear the word "Shining" in front of any game. But Shining Wind, Shining Tears, all those games weren't really "it". At last another Shining Force is out, is what I thought when Shining Force Feather
was announced, so I got it as soon as I could and now I just finished it.
Overall thoughts: It was really short, not more than 15 hours or so, but it was a good 15 hours. The action never stopped and the story moved at a brisk pace so there was never a dull moment. It was a worthy purchase, and I just might play it again in the near future.
Story: You play Jin, a treasure hunter who comes across a mysterious girl when he's looting some ruins. The girl's name is Alfin, and she leads Jin to an ancient airship, which he promptly decides to sell for cash. The earlier parts of the game are taken up by Jin's attempts to fix the crash-prone ship up so he can flog it for mega-bucks, and then the later parts involve the usual "save the world" stuff. It's nothing original, and since the game is so short nothing is fully developed, but it's interesting enough while it lasts.
Characters: A total of 9 playable characters and a few interesting NPCs. Alfin is never able to join you in battle, despite what the cover might lead you to expect. There's Jin, his best friend Bale (a centaur and the best battle character, period), Miriam the elf, Julius the snooty noble, Tida the half-beast (another excellent fighter), Rush the hotblooded treasure-hunter, Grizeria the magician, …some minotaur whose name I can't recall and Cocotte, the angel with next-to-no relevance at all.
Their interactions throughout the game tend to be very funny indeed, especially Miriam's dumb innocent ways. Jin's airship has a lounge where he can talk to the characters and find out what's on their mind. Make sure you don't miss the one where Miriam asks Jin where babies come from
. Unfortunately the endings aren't character-dependent: there's only one ending and you get it regardless of how you get along wwith people. I really wish there had been 9 endings and more of a focus on relationships, because the characters were great!
Ooof, I'm tired from typing all this. >_< I'll continue with the battle system, music and graphics tomorrow.