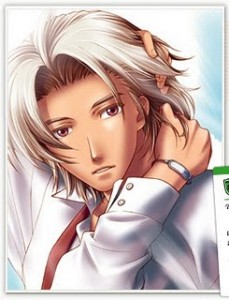 Subtitled: "He hits me, but I love him!"
This time I went for the "true" ending of sorts, i.e. solving the 'mystery' of who the little boy was and whether the prince ever found his mermaid princess. Yes, Saeki Teru. The default guy, and an all-around first-class ***hole.
First off, he says mean things all the time to you, then tries to cover them up with "just kidding" type remarks. I hate that. And when he doesn't like you yet he doesn't even bother to pretend to be nice. Secondly, he hits you. They call it a "chop" but anything that makes the main character go "ouch!" counts as hitting in my book. So he's verbally and physically abusive. Thirdly, he's not that good-looking. I mean, yah, he's alright, but he's not God's gift to women the way the game tries to make him come across.
Fourthly, and related to the third one, since he's not all that, it's annoying that you have to get excellent stats all around just to get him to confess. He's not that smart, not that athletic, not that artistic so why do I have to be goddamn near-perfect to get him? Lastly, and most importantly, he's just not that into you. I admit I wasn't paying 100% attention during his ending, but I never heard him say the word "I love you." Everybody else says it except him. He wants you, he needs you, but he's never going to love you, so why bother?
If I was rating the guys in Tokimeki Memorial Girls' Side 2nd Season, Saeki would get a solid 1/5, only rating above playboy Tarou and Komori. What a loser. >:-(