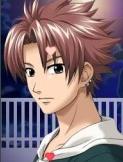 Harry! I got his ending this time! If you're wondering whether I've been playing the game over and over again each time the answer's no. I had a save after Christmas the first year so I just use that to continue and try and get other guys. Still enough time to meet and date most of the non-secret ones. Since I'd already gotten my social stat high to try and woo Hikami, Hariya was a cinch.
He's a really sweet guy, but I'm not sure what to think. First, even though he does say he loves you at the end, everything about the relationship felt more like really good friendship to me. Or maybe he's just the kind of guy I'd like to have as a friend and I'm extrapolating? I just didn't get that madly-in-love feel from him. Also I felt a bit odd about him because he's non touchy-feely. It's one thing when he doesn't like you, but even at full on Tokimeki mode he's very likely to have a burst of blue hearts when you try to kiss him (or touch his hair, go figure). Do you think maybe…he doesn't like women? Or even worse…he doesn't like me!? Ow…
But he's a sweet guy, I think his route was the most heartwarming just because he's cool to be around. Wakaouji has all this drama and Saeki's just a dick, it was good to be with someone normal for once. Next, I finally feel like completing the Hikami playthrough. After that I'll play something else because I'm getting a bit sick of this. Might go back to TMGS1 (somebody stop me!!) or place my order for L2 LovexLoop or something.