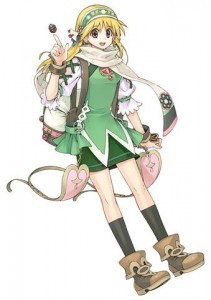 [Note, this is not my real opinion of Atelier Lina. This was published before I'd played the game properly, and my final conclusion can be found here, helpfully titled "Lina no Atelier is Awesome!" As for why this post appears out of order, I really don't want to talk about it.]
*sigh* I think Gust is losing their touch. Whoever they're farming the DS Atelier games out to is making a royal mess of them. First there was Atelier Lise, which was horrible in every way, shape and form. Then there was Atelier Annie, which wasn't a bad game but had a really kiddy story and too much talking. Third time's the charm, right? That's what I was expecting when I started Lina no Atelier: Strahl no Renkinjutsushi
, but nooo, it's just as bad as the others.
I haven't gotten that far in, but this game could turn out to be the one Atelier game I don't finish. Two things bother me. One, it's brought back the crazy money requirement from Lise. I HATED that thing, and you know with a money requirement like that there's almost no way to make that kind of money in one playthrough unless you have a FAQ. That's highly unpleasant and totally unfair.
Secondly, and more importantly, it seems that buying and selling will be a more important part of this game than alchemy will. I already made a few items in my atelier and it was awful: even simple items take forever to make with a low, low chance of success. You don't have time to waste, so I don't see myself spending much time on alchemy. DAMMIT. What's the point of an Atelier game if you don't get to synthesize?
You know how else I can tell the focus isn't on alchemy? Because even though you need money in this game, when you suffer and suffer and complete a store request, they don't give you money. They give you scavenger items! If you spend time on synthesis, you'll be BROKE! When you waste 10 cole to check rumors, they tell you about item prices, not about the latest forage areas. Arrgh, I hate this.
Oh, and the incessant talking from Atelier Annie is back. The talking that made that game the bane of my existence, that made coming back to my lab torture every single time. Yes, that talking. I knew I should have written a protest letter to Gust when that happened.
Phew, anyway. Guess I'll keep plodding away at it. I'm also slowly plodding towards the end of Saga 2, and starting to really get under way with Dragon Quest 9, so it's not like I'm trapped with this awful game alone. Time to play!