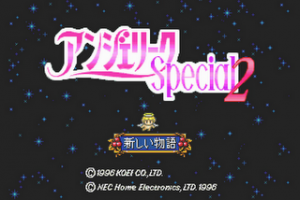 Well, actually I haven't won yet, but I'm getting there. I found a very good Japanese strategy site on Angelique Special 2
, the URL of which I have sadly forgotten, and I used it to ensure that I now have 6 hearts to Rachel's 4, and two guardians (Julius and Randy) at my beck and call. Right now they love me so much they're building the universe for me on their own, while I focus on raising stability at the academy. I'm going to chat up Oscar, Victor and Olivier as well in case I ever need them to vouch for me at the monthly review (doubt it will be necessary at this rate) and before too long the universe will be mine! *evil cackle*
Anyway, for the benefit of anyone who's been playing this game and getting whupped by Rachel, here's how to do it.
1. At the beginning, ask her to go easy on you. This is only necessary for the first playthrough, after that you can play it hard mode. It's the first option on the third question she asks at the start, but if you don't understand enough Japanese to know that much, you should probably stop now.
2. Pick a good zodiac sign and blood type. Check Marfisa's compatibility guide to know what the best ones are.
3. Find out who the hardworking guardians are. "Hardworking?" you ask? Yeah. In this game, not all guardians work equally hard. If you ask two different guardians to put energy into your planet, they might put in different amounts. This ranges from 2 all the way to even 7 for "a lot" of energy. Each stat needs 10 energy to form a planet. If you ask a hardworking (7 energy) guardian for "a lot" of energy, you'll get 2 planets in 3 days. By contrast a lazy (2 energy) guardian will take 10 days to give you the same results. You have a limited number of hearts and days to work with, so naturally you need to maximize your results.
So how do you find out who works hard and who doesn't? Well, as soon as you've set everything up in the game, save at the table in your room. Then for the next couple of days, visit all of the guardians in turn and ask them to put in a lot of energy. One day, one guardian, until you've visited all 9. Then go to your planet and check the new chart. You'll see who put in more energy, and who put in less. Note it down somewhere. By the way 6 and 7 energy guardians are rare, and you'll most likely have only one or two 4-5 energy guardians per game, most of them will be 2-3. That's okay, but you need at least one hard worker.
Also note down which elements the universe needs most of. at this early stage it'll probably range from between 7 to 15. Any element (and accompanying guardian) which requires less than 10 energy should be ignored. Because no matter how much energy you pour in, it'll never grow your egg (shining ball of energy) so don't bother. If those are the guardians you like, consider restarting because it's completely random. Strictly speaking you can still go ahead and use that element if the guardian is hardworking, but I believe you get better results with the elements you need more of. What I really need is more research on this matter.
4. Before you reset after finding out who works hard, visit the fortune-teller and check who you're most compatible with. With any luck you'll be most compatible with the ones who work hardest AND your planet will require >10 of their energy. But even if you're not, don't re-start unless they're completely lazy (2) and/or the planet requires less than 10 energy from the hardest working ones. I mean, you can go for it, but you'll be fighting uphill all the way. Anyway, reset now and start afresh from day one, focusing only on those worth your time.
5. Your next task is to grow your egg twice, using your hardest working guardian(s). It should only take a few days if you're doing it right. Just grow it twice, because apparently if you go up to three Rachel starts hurting you. So grow it to two.
6. Next ask two guardians for energy until you reach 9 for each one. You might have to use "small" infusions of energy for it. No problem. Just make sure that you can maximize both in one night, two at most.
7. Good, now hang in there while Rachel goes ahead and raises the egg as well. She should contribute her lot too. Let her get about two growths for now.
8. While this is going on, start charming one or two of your most compatible guardians. Your days will go like this – talk to them about yourself, then visit the fortune-teller to raise compatibility until it's at 100. If it's at 100, raise compatibility for the next guardian. Date them on weekends. If you're using an emulator and can reset easily, take them to the park and try to answer their questions. Otherwise stick to your room or the lake for a safe date.
9. A day or two after Rachel gets 2 growths (make sure she doesn't get 3), step in immediately and raise those last 2 growths (the ones at 9, remember?). Ta-daa, you've got 4 to her 2, and the queen will instantly award you with your first extra heart.
10. After that, play the game as normal. Keep raising your guardians' love till it's at 175+, at which point they'll start helping you on their own. Occasionally ask them to pour in energy for you, but keep the focus on raising stability at the academy. If you outstrip Rachel too far she'll try and hold you back, so just stay a little ahead of her, maybe 3 or 4 planets, not too many. Be sure to keep up the guardians' love, and to keep studying.
And that's it! Not so hard, so long as you don't let her get that first heart, and make sure you get the second heart too. Here's a tip if she's got a guardian on her side: visit him and ask him to work for you. Either to hurt her (not recommended 'cos she can take revenge), or to help you. If he's working for you that day, he won't give her any bonuses.
Have fun!