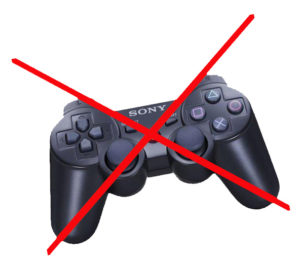 I'm taking November off from playing games. It's already been Day 3 of my self-imposed gaming fast and I feel fine. Actually I haven't played much of anything since mid-October so it's not too much of a difference. Not being able to check into Paradise Bay at least once a day itches a bit, though.
As for all the games I mentioned giving a second chance to a couple of posts ago… yeah, they're all dropped. Good riddance. From December I'll be starting anew with a fresh batch of games.
Why a break now? Because I've virtually exhausted my DS and PSP libraries. There are a few RPGs and otome games I haven't played yet, but they're mostly things I'm not really interested in. If I were interested I would have played them by now, see? After all I've had a DS for over 10 years and a PSP for over 6. That's plenty of time. The 3DS is largely in the same boat, sadly enough. There's SMTIV Apocalypse, DQ7 and then maybe I might try the Etrian Odyssey reboots but that's about it. Wii and PS2 are on ice because I don't have a TV any more (long story. Very long story).
Basically I'm out of things to play. That I really want to play, that is. That makes this is a good time to evaluate whether I want to move on to new consoles and handhelds or just clean up odds and ends and call it a day when it comes to gaming. Right now my mind is pretty firmly made up to get a PS Vita before the end of the year and Switch before the end of 2018 (Xenoblade 2!!!!). But that's because I'm taking it for granted that I want to keep playing games. But do I really? Or am I just coasting off inertia?
No-Game November is an experiment to see if I'll miss playing games this month, and if so how badly. I've done a gaming fast before a couple of years ago, but the circumstances were a bit different (another long story). November is a month for exploring other hobbies. It's also a time to get in touch with my inner feelings and listen to the voice of the games with me… NOT! 😀
Okay, kinda. It will be useful to know know exactly what kind of games I feel like playing and when I feel like playing them. I've already learned that I miss Paradise Bay a lot, so maybe that means I should experiment more with cheerful, low-pressure casual games in future. I also realized I feel like playing games when I'm bored (duh) but also when I'm cranky or tired or have a lot to do and need to procrastinate. Obviously that means I should experiment more with more casual games. And I've realized I don't feel like reading a lot any more, I just want to jump in and play as soon as possible. Yup, more casual games!
At the same time I wouldn't mind playing an ARPG with a lot of loot and a lot of weapons in it. Something like Phantasy Star Portable or Rune Factory in terms of both mood and difficulty. I already have a couple of titles in mind so… No! Bad Kina! No games till December!
TL;DR – This blog is on hiatus until December while I decide whether to buy more consoles/handhelds or move in a more casual direction. See you guys next month!