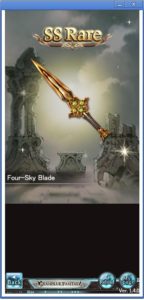 No, PartymePlox, I am not dead. So sorry to disappoint you. :-p I just haven't played anything in the past two weeks that isn't a mobile game or a browser game, and as I mentioned before I find them quite boring to write about. Especially for games like Granblue Fantasy where posts by higher-level players are so full of jargon like MLB (baseball?) and 'mats' and 'pools' and so on and so forth, even a fellow player like me can only take so much. Still, for lack of anything better to write about, and so people don't think this blog is dead, here goes nothing:
I reached level 50 in Granblue Fantasy. The first 30 levels fly really quickly as they tend do to in this sort of game. The next 10 levels, not so quickly but not too slowly either. 40-50 was a chore. It didn't take that long but it was a slog because only my main character was getting EXP. All the other party members were just sitting there kind of watching me.
See, I've reached a point in the game where all my characters' levels are capped and they need items known as Champion Merits to keep leveling up. Champion Merits are hard for weaker players to get (meanwhile higher-leveled ones constantly whine about having too many. I hate those guys) but I heard after level 50 I could get into certain raids where the boss dropped them "like candy." So I worked hard, patiently grinding story mission after event battle after story mission, finally reached 50 and then… nada. Nothing. Not a hair nor hide of a Proto-Bahamut raid. Mr. Bahamut? Mr. Bahaaamuuut? Nope, no sign. ………..not even sure how to feel. Well he'll show up when he's ready.
Luckily I'm enjoying the rest of the game apart from that little hold up. I got lucky and picked up some useful units and weapons from the lottery at the end of May. With a nice dark weapon from the current event and the addition of Yuri and Vaseraga to my team, even the Extreme light Vacheron doesn't stand a chance against me. Ahh, I remember the days when even "Normal" battles were a slog, and now I'm soloing Hard summons (okay not all of them) and beating Extreme bosses, so sweet.
This is my dark team, btw: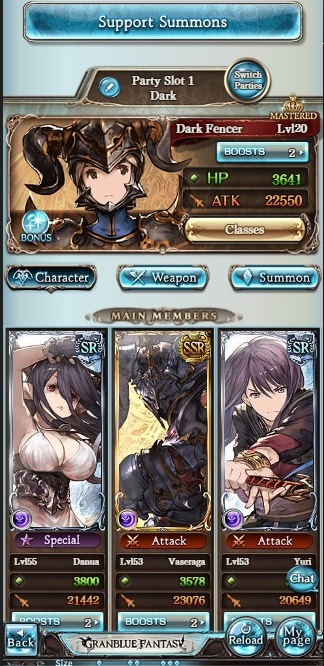 And this is my dark weapon pool: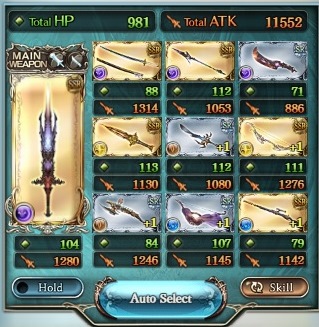 And my summons for what they're worth. Anubis is actually really useful, because that boost to critical triggers more often than not. It's especially sweet during a Charge attack, where it makes mincemeat of the Extreme boss's overdrive.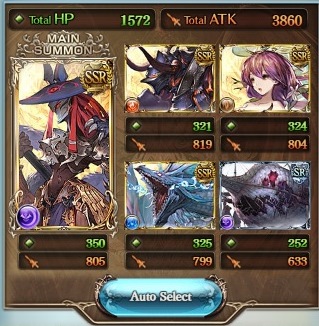 I also have decent water (Silva is just plain awesome) and wind teams and crappy everything else. Of course the veterans will go on about how hard it is to fill a dark weapon pool and blah blah Bahamut blah Unknown weapons blah blah Omega, etc etc. Just ignore everybody and play how you like, is my ninja way. In a random game like this you have to do your best with what the game gives you, and what I've been given so far is good dark weapons, so I'm sticking with them.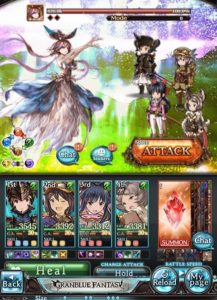 Having come this far and spent the better part of a month on Grindblue Fantasy, I think I'm qualified to make a recommendation about whether to play it or not to potential players. First, it really is all about grinding. You really will have to do the same things over and over and over again to get anywhere. Events, casino, trials, it's all the same thing. Even the story quests and free quests all boil down to fighting the same monsters several times in a row. If that's not your sort of thing, don't even bother.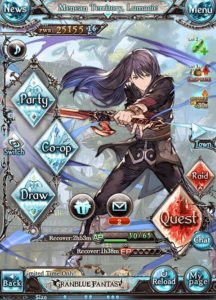 Secondly, getting strong is a long-term prospect. Unless you're willing to plow several months of work into the game or pay a lot of money, don't expect to be soloing or even MVPing Omega and higher raids for a long time to come. I suppose that isn't news to anyone familiar with MMORPGs, but it's taken me a while to wrap my head around the concept. If I poured the same amount of time into most 'regular' RPGs, I'd be long done plus post-game content plus bonus content and everything. "I'm working so hard and I'm not getting anywhere. What is wrong with this game?" Nothing, that's just the way it's designed.
If you can look past those two issues – or if that's the exactly the kind of thing you're looking for, welcome aboard! Despite the slowness and the grind, I can clearly feel my party getting stronger by the day. That's what keeps me playing because I just love that sense-of-growth feeling in games. That's the only thing you play Granblue Fantasy for anyway, since the story is not that good (plus the translation quality is so spotty) and there's nothing else to do in the game. Grind, get a little stronger, grind better mobs, get a little stronger, and on and on.
The key is to pace yourself so you don't burn out. And I should really take my own advice, but first I want to grind out all the rewards from this Tales event, especially that cool-looking katana, THEN I'll pace myself. So another 3 days of Granblue and then I'll get on to those games I've been meaning to start all along. Uh, probably. See you sometime this month. Uh, maybe.