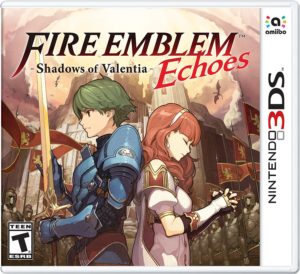 As promised, I'm here to report my early thoughts on Fire Emblem Echoes after finishing Act 1.
Umm, well… It's Fire Emblem all right. It was a bit tough getting into it when my party members were all so weak, but now they've toughened up a lot. I even managed to promote Gray to Mercenary at level 10 and he's doing beautifully. I can't wait to see how the others turn out, especially Kliff (my favorite already). What I like best about SRPGs is the "Just killing stuff with my friends" factor and now that we're on the killing end and not the being-killed end, all is right with the world.
Fortunately or unfortunately, I can't decide which, I'm playing Echoes on Normal + Casual mode so it's dreadfully easy. So far, anyway. I'm sure it gets harder later. Since this is a choice I made and since I will never ever go back to Classic mode no matter what (too frustrating, too stressful, too time-consuming) this is the only time I will complain about the game being a bit on the easy side. Just that for future Fire Emblems and Echoes replays I will start on Hard instead.
Fire Emblem games are balanced around you trying to avoid any deaths so if you don't care about losing a few party members here and there, they don't really know what to do with you. I anticipated the problem and avoided it when playing FE: Shin Monshou so you'd think I would know the right thing to do by now. Unless you're a regular here, then you're not surprised 😉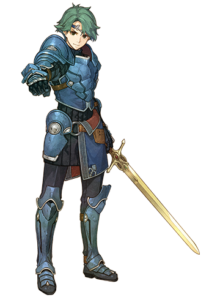 I thought I'd been playing for a while, but my save file only reads 4 hours, so I won't say too much today. I just headed out to sea with Celica to fight some pirates and stuff. I have mixed feelings about games that make you train one party then another then another. It's nice to try different party members, but I'm going to bench almost everybody by the end, y'know?
Plus things had just gotten heated on the Deliverance side – leaving aside how laughable it is that everyone is immediately all over this random untrained village kid from nowhere instead of the heroes who had fought most of the war so far, almost made me sympathize with the one objector but whatever, Alm is just that special I guess blechhh – so having to start all over with a bunch of bickering level 1 kids is a bit of a buzzkill. But they're growing on me too so there's hope for the future.
My progress in Fire Emblem Echoes will be fairly slow for now because I'm playing three other games at the same time: Operation Abyss (wiped out spectacularly in Babyl and haven't touched it since), Sword Art Online: Infinity Moment (just finished all the tutorial stuff and started my first real quest) and Shin Rorona no Atelier (finished the first two sets of assignments, almost done with the third, will post when I finish the first year). More on those games as they develop. I'll probably devote a sizeable chunk of time to finishing Abyss this weekend so I can clear it off the list then play the rest more or less interchangeably.
And that's what's going on with me. Until next time!